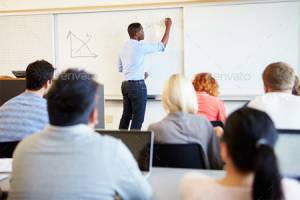 About Our Teachers
All of our teachers at Lentz & Lentz SAT Prep have college degrees and have classroom teaching experience at the high school and/or college level and have been specifically trained in both PSAT, SAT and ACT preparation. Our staff is steady and consistent. Many of our teachers have been with us for years. Because of the loyalty and longevity of our personnel, we can offer the best SAT/ACT/PSAT program at a reasonable price.
We have four resident math specialists and four resident English specialists with masters degrees who have contributed extensively to our SAT, ACT, and PSAT copyrighted curriculum. Each one is or has been a full-time high school math or English teacher.
About Lentz & Lentz
Mr. Lentz has taught English and served in administrative positions relating to SAT, PSAT and ACT preparation for more than forty years. He has both the Bachelor of Arts and Master of Arts degrees in English, a Master of Science in educational administration, plus thirty credits in doctoral English courses.
Mr. Lentz has been involved with several high schools in extensive consultative work in an effort to revamp curricula to achieve optimum results on the SAT, PSAT and ACT. He has run public and private SAT, PSAT and ACT programs for more than 40 years.
Mr. Lentz Jr. is a McGill University graduate with a Bachelor of Arts in English. He has been teaching test prep courses for over fifteen years and has worked extensively on the redevelopment of the new PSAT, SAT and ACT curricula. He also serves as Executive Director of the Teaneck International Film Festival which is a subsidiary of the philanthropic Puffin Foundation designed to promote brotherhood and good will toward fellow man through the art of film.
Other links: About Us | Private Tutoring | Guarantees | College Selection